Kingston, MA | Carver, MA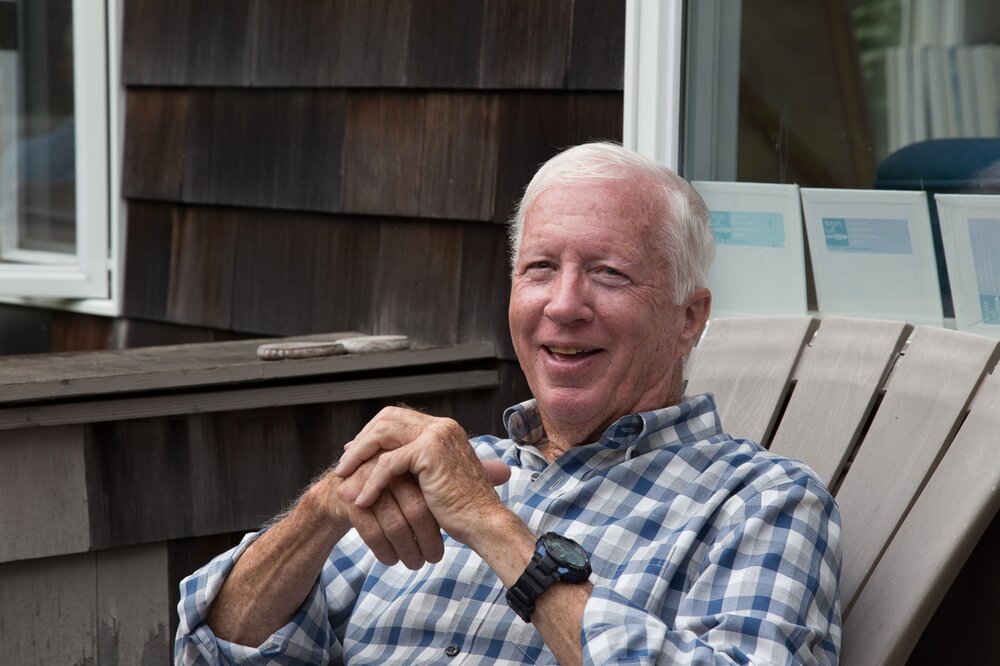 Obituary of David J Collins
David Collins, barcode pioneer, dies at 86
David Collins, who led the development of the first commercially successful barcode scanners and was widely considered the "father of the barcode industry," died at his home in Duxbury, Massachusetts, on Saturday, March 12. He was 86. The cause of death was complications from ALS.
Now ubiquitous, barcodes on retail products are scanned at an estimated rate of more than 3 billion times per day, while manufacturing and service industries around the world have also been revolutionized by using barcodes to speed processing, limit errors, and manage inventory. Mr. Collins is named on several patents issued by the US Patent and Trademark Office that enabled broad, global adoption of barcode technology.
In 1959, Mr. Collins joined Sylvania Electric Products at its Applied Research Lab in Waltham, Massachusetts. There he created a system to track railroad cars labeled with a unique pattern of red, white, blue, and black bars. Bolted to the side of railroad cars on three-foot tall metal plates, these early "bar codes" could be read by laser scanners positioned along the tracks, accurately identifying the cars as they sped by.
Convinced this technique had applications well beyond the railroad industry, Mr. Collins left Sylvania in 1968 to found his own company, Computer Identics Corporation, in Westwood, Massachusetts. By 1970, the company had developed the first black and white barcodes, as well as helium-neon laser scanners capable of reading them, allowing other industries to benefit from them. The first applications were for a General Motors assembly line, scanning axles destined for new Pontiacs, and for package delivery, with precursors to the portable scanners now used by FedEx and UPS drivers worldwide. At the 1984 Summer Olympics in Los Angeles, Computer Identics scanners read the barcodes printed on badges for every athlete, journalist, and staff member. This novel security feature was so successful that every Olympic Games since then has adopted badges with integrated barcodes.
After stepping away from day-to-day management of Computer Identics in 1987, Mr. Collins formed a consulting, research, and educational firm called Data Capture Institute where he advised on advanced barcode solutions for large multinational corporations and for branches of the US Government, including the FAA, the Department of Defense, and the FDA.
In 2011, the United States Congress issued an official Certificate of Appreciation to Mr. Collins, recognizing him as "the father of the barcode industry."
David Jarrett Collins was born the youngest of three children on February 11, 1936, in Philadelphia, Pennsylvania. His mother was Margaret (Missett) Collins and his father was Walton R. Collins.
Mr. Collins attended La Salle College High School and joined the renowned Vesper Boat Club on nearby Schuylkill River, rowing to two national championships in his teens. In 1957, he graduated from Villanova University with a bachelor's degree in civil engineering; he would later receive the school's Morehouse Memorial Award for "outstanding achievement at the highest level." Moving to Boston, Mr. Collins earned a Master of Science degree in industrial management from MIT's Sloan School of Management in 1959.
It was at MIT that Mr. Collins traded in his rowing oars and learned to sail, soon becoming an avid competitor. Racing out of Duxbury Yacht Club and Beverly Yacht Club, in Marion, Massachusetts, he and his crews won numerous regattas in his boats, Resolute, Schuylkill Navy, X-Dimension (which he later donated to MIT's sailing program), and Next Dimension. Notably, he competed in Edgartown Race Weekend, one of the nation's top regattas, for 48 consecutive years, frequently winning his class. With a lifelong love of the water, Mr. Collins and his wife, Joan Hacker Collins, enjoyed many winters at their home on the island of Kauai, generously hosting their visiting family and friends.
Mr. Collins is survived by his wife Joan of Duxbury; his son Jarrett and wife Lee of Wellesley, Massachusetts; his daughter Catherine and husband Erik Hall of Snohomish, Washington; his son Michael and wife Jill of Duxbury; his son Timothy of Saunderstown, Rhode Island; his son Peter and wife Meredith of Portsmouth, Rhode Island; his stepdaughter Libby Hacker and husband Jan den Dikken of Scituate, Massachusetts; his stepdaughter Leslie Overbye and husband Chris of Southborough, Massachusetts; his stepdaughter Hilary Gately and husband Jeff of Duxbury; twelve beloved grandchildren; and his first wife Ann of Duxbury. He was preceded in death by his parents, his brother Walton, Jr., and his sister Margaret Collins Hemp.
A funeral service will be held at Holy Family Church at 11 am EDT on Saturday, March 19, in Duxbury, Massachusetts. For those unable to attend in person, the service will be available at www.holyfamilyduxbury.org.
In lieu of flowers, memorial donations may be made to Compassionate Care ALS at PO Box 1052, West Falmouth, MA 02574 or www.ccals.org
For further information, please visit the Shepherd Funeral Home website at www.shepherdfuneralhome.com.
A Memorial Tree was planted for David
We are deeply sorry for your loss ~ the staff at Shepherd Funeral & Cremation Service - Kingston
Share Your Memory of
David
216 Main Street
Kingston, MA 02364

116 Main Street
Carver, MA 02330
For all mailings please use:
P O Box 325
Kingston, MA 02364

Looking for something you can't find? We make it easy to get the answers you need. Please feel free to contact us at anytime