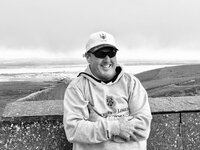 Paul Francis Kelleher
Paul Francis Kelleher, 58, of Plymouth, MA passed away unexpectedly on Monday, May 15, 2023.
Paul was born on November 13, 1964 to Margaret and Patrick Kelleher in Boston, MA. In 1965, the Kelleher family moved to Kingston where most of the family still resides. Paul graduated from Silver Lake Regional High School in 1982 and went on to pursue a successful career in excavation, hardscape, and construction.
Paul met his former wife, Diane DeFazio of Halifax, in highschool. They were married in 1989 and went on to have three children, Caitlin, Brendan and Ryan. Paul's children were the greatest joy in his life. Paul enjoyed spending time on Great Herring Pond with his family and friends. Paul's quick wit and sense of humor put everyone at ease and made them feel welcomed with open arms.
Paul was predeceased by his brother Brendan and father Patrick. He is survived by his children, Caitlin, Brendan and Ryan, his former wife, Diane, his mother, Margaret, sisters, Mary and Theresa, and brothers, Kevin, Brian, Shaun, Patrick, James, Michael and Joseph. He has many nieces, nephews, aunts, uncles and cousins. Paul had an abundance of friends from all walks of life.
Calling hours for Paul will be held at Shepherd Funeral Home in Kingston on Monday, May 22, 2023 from 3-7 p.m. The funeral mass will take place on Tuesday, May 23, 2023 at 10 a.m. at Saint Joseph's Church in Kingston. The Celebration of Life will be held at Indian Pond Country Club following the funeral mass. In lieu of flowers, the family requests donations be made to The Kelleher Family Memorial Scholarship Fund.
Merrill Lynch
Attn: Blair Short
1803 Broadway Street Ste 700
San Antonio, TX 78215