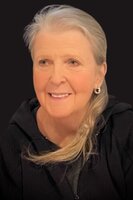 Sheila Ann McGrale
Sheila McGrale passed away peacefully with her family by her side on May 12th, 2023. She was 79 years old.
Sheila was born December 5th, 1943, in Boston to the late Albert J. and Mary J Ryan (Gill). Graduating from the Boston City Hospital School of Nursing as a Registered Nurse, she lived most of her life in Kingston, Ma, where she passionately built an amazing, caring, and hardworking family.
She loved being a mother.
Sheila is survived by her husband of 55 wonderful years, Jack, daughters Susan, Shannon, and Leigh; her sons, John, and Michael, brother Robert Ryan of Antioch, TN; and many, many wonderful grandchildren, cousins, nieces, nephews, sisters-in-law, sons-in-law, daughters-in-law, all of whom she loved so very much.
Sheila is preceded in death by her beloved son Ryan McGrale and brother, Father Albert "AJ" Ryan.
Respectfully, the viewing and burial services will be held in private. Flowers in Sheila's name can be sent to Shepherd Funeral Home in Kingston, Ma. All are welcome to attend a celebration of life mass on Friday, May 19th at 12pm at Holy Family Church in Duxbury, Ma.