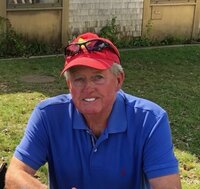 Robert Thomas Moffatt
Robert Thomas Moffatt, 73, of Duxbury, passed away peacefully on May 14, 2023 after a long battle with Alzheimers.
Robert is survived by his beloved wife of 50 years, Nancy Davis Moffatt. Cherished Father to Holly Fahy and her husband the late David Fahy, Peter Moffatt and his wife Anna, Robert (Bobby) Moffatt, Jr. and his wife Shira, and Suzanne Occhialini and her husband Robert. Robert is survived by his brother Kenneth Moffatt and wife Joanne, sister Nancy Watts. He was preceded in death by his parents Sidney and Alice Moffatt and brother Rich Moffatt. Cherished Grandfather to Patrick and Kaitlin Fahy, Callum and Bode Moffatt, and Bennett and Reed Occhialini
Robert was a High school graduate of Westwood High School and went on to graduate from Northeastern University with a degree in mechanical engineering. Robert was an avid sailor and could often be found on his boat "Indigo" in the Duxbury Bay. He also enjoyed skiing and photography, as well as long walks on the Powder Point Bridge and Duxbury Beach.
Visiting hours will be held on Thursday, May 18th from 4-7:00 PM at the Shepherd Funeral Home, 216 Main St(Rt. 106) Kingston.
In lieu of flowers donations can be made to the Alzheimers Association at www.alz.org. For additional information please feel free to visit www.shepherdfuneralhome.com. Shepherd Funeral