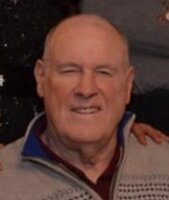 Robert M. Burr Sr.
Robert (Bob) McConnell Burr passed away peacefully at his home in Plymouth, MA, Monday, May 8, 2023, with his beloved wife, Dorothy, by his side.
Robert was the son of the late George and Minnie Burr. He was born on October 19, 1939 in Quincy, MA and graduated from Silver Lake Regional High School in 1958. Robert joined the United States Army, where he was active duty for 3 years as a Military Police Officer. On December 28, 1958, Robert married his beloved and dedicated wife, Dorothy L. Burr, in Norwood, MA. Following the service he joined Local 1121 Millwright, as a foreman on large turbine engines. In 1966, he became a dedicated fire fighter and deputies aid, joining the Quincy Fire Department, where he spent 22 years. After retiring from the fire department Robert became the President and Owner of R.B. Machine Co, Inc., Plymouth Tech Gas Inc., and Standard Repair Company for 43 years. Robert and Dorothy were long time residents of Duxbury, MA, for 34 years before moving to Plymouth, MA.
Robert enjoyed hunting and extensive travel around the world for many years with his wife. He loved spending his summers at his property in Otisfield, ME on Thompson Lake. In Maine, he enjoyed boat rides, playing "Go-Fish" & the marble game with his grandkids, along with feeding the "Chippies" and splitting wood. He loved their family pets, Bootsie, Nutmeg, & Kitty. When not traveling, Robert spent time at the North Hill Country Club and the Duxbury American Legion. Robert had a sense of humor and loved to tell a good joke, was a hard worker, but most importantly, Robert was a dedicated and loving Husband, Father, and Papa.
Robert is survived by his wife of 64 years, Dorothy L. (Mellaly) Burr; their children, daughter Lynda (Burr) Fahrney, son Scott C. Burr, and daughter Kimberly (Burr) Andersen; 11 Grandchildren; 13 Great-Grandchildren; Sister Ann Laneau; and many nieces, nephews, and cousins. He was predeceased by his Father George W. Burr & Mother Minnie Victoria Burr; sister Gertrude Brown, sister Jean Patten, brother George W. Burr II, brother Roy Burr, sister Ruth Davis, and brother William Burr.
Visiting hours will be held Monday, May, 22, 2023, from 10am-1pm at Shepherd Funeral Home, 216 Main Street, Kingston, MA, followed by a 1: 30pm graveside service at Mayflower Cemetery in Duxbury, MA. Family and friends are invited to ThreeV, 10 Cordage Park Cr Suite 253, Plymouth, MA, for a Celebration of Life at 2:30pm.