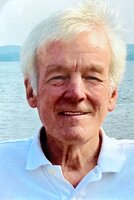 John A. "Jack " DiCenzo
John (Jack) Anthony DiCenzo of Kingston, MA, formerly of Duxbury, passed away on March 15, 2023 surrounded by his loving family.
Jack was born in Braintree to Albert and Elizabeth (Biganzoli) DiCenzo on July 29, 1944. He graduated from Holbrook High School where he was a star basketball and baseball player. He attended Quincy College and Northeastern University. Jack competed in the Boston Park League and was a Hall of Fame member of the Cranberry League (Easton Huskies). He was a Food Service Equipment Engineer and started his career at Howard Johnson's where he met his wife.
Jack is survived by his beloved wife of almost fifty years, Mary (Shea) DiCenzo and his children, Gregory (Klio) of Hopkinton, and Allison (lan) Fass of Kingston. He was the proud Papa to three little girls, Elizabeth and Katherine Fass, and Nikoletta DiCenzo. He is survived by his in-laws, Dan (Kate) Shea, Walter (Pam) Shea, Jean (late, Kent) Lamere, and Joan (Peter) Berry and many loving nieces and nephews.
Jack was an avid baseball fan and passed the love of the game to his son and daughter. Nothing brought him more joy than watching Greg and Alli play sports. He was a coach to many of the Duxbury youth. In his later years, you could find him in the stands at the College of the Holy Cross, watching his son coach. Jack was a kind and unassuming person who will be missed by many.
Visitation will be held at Shepherd Funeral Home, Kingston on Sunday, March 19th from 2-6pm.
Mass of Christian Burial will be held at Holy Family Church, Duxbury, on Monday, March 20th at 10am. Burial will follow at Mayflower Cemetery, Duxbury.
In lieu of flowers, donations may be made to:
Duxbury Youth Baseball, a non profit organization,
PO BOX 1577, Duxbury, MA 02331.