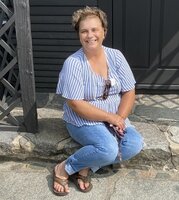 Karen Jean Pereira
Karen Jean Perira, 56, of Rochester MA, passed away on March 2 2023, after a fourteen year battle with ovarian cancer. Karen was born on November 11, 1966 in New Bedford MA. Karen was A registered nurse for well over a decade and enjoyed her time as a travel nurse. When she was unable to continue her career as a nurse, she loved long car rides and adventures with her friends and family.
Karen's greatest accomplishment was her two successful children and making sure anyone she met knew about them. She pushed herself medically over the years to watch her oldest son get married, followed by the birth of her first grandson, Kade.
Karen was able to witness her daughter obtain her masters degree and start her career. She was so proud to witness the engagement of her daughter and celebrate her growing family.

Karen is survived by her mother, Maria and brother Paul of Rochester, her sister Rachael, brother -in- law Brandon and two nephews, Jonah and Nolan of Acushnet, Her son, Casey, her daughter- in- law, Kristin, and grandson, Kade of Pembroke. Her daughter, Alison and fiancée James of Pembroke.

Memorial Visiting hours will be held at the Shepherd Funeral Home, 116 Main St. Carver, MA on March 16, 2023 from 4:00pm to 7:00pm.
In lieu of flowers, Karen requested donations be made to Dana Farber Boston, an organization she felt strongly about.