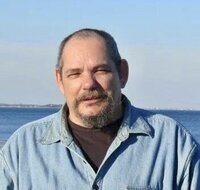 Mark D. LeBarnes
Mark D. LeBarnes, 65, of Carver, passed away on March 1, 2023. He is survived by his siblings, Joseph LeBarnes Jr and his wife Janet, Jeffrey LeBarnes and his wife Donna and Lorinda Giles and her husband Robert. He is also survived by his nieces and nephews, Angelique LeBarnes, Brandy Lyn Abbot, Jared LeBarnes, Megan Giles, Jason LeBarnes and great niece, Cheyenne LeBarnes. He is also survived by his great- great nieces and nephews, Mason LeBarnes, Brandon Lodge, Kaylee Abott and Aubree LeBarnes. He was preceded in death by the love of his life, Arlene Harshell. He is also survived by countless friends that touched his life.
Mark loved, riding his motorcycle and traveling. He enjoyed and looked forward to his breakfast out five days a week. He enjoyed scratch tickets and (waiting to win big). Mark was also a lover of tattoos. He had a big heart, and was extremely generous and loving to family, friends, and strangers.
Friends and family are welcome to attend a graveside service that will be held on Friday, March 10th at 1:00pm at the Plymouth County Cemetery, Plymouth MA. (Casual dress attire is welcome and encouraged for the service.)

In lieu of flowers, donations in Mark's name can be made to Shane's Food Pantry, 128 Main St, Carver MA, 02330.