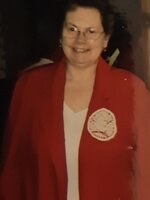 Carol Fortier
Carol Fortier, 80, of Carver passed away on January 21, 2023. Carol was born in Brockton, MA on January 8, 1943. Carol was the beloved wife of the late Gayle Fortier, loving mother to Daniel Fortier and spouse the late Ellen Pumphret of Carver, MA, Darlene Fortier House and spouse Thomas D. House III of Santa Fe, NM and Jon Fortier of Texas. Carol was the daughter of the late Lewis and Irene Farwell. Carol is survived by her brother Lewis Farwell and his wife Deborah of Mashpee, MA. She is also survived by her 5 grandchildren Vaughn, Keith, Bonnie, Nicole and Forrest and great-grandchild Grayson and many, many family members. Carol is preceded in death by her brother George Farwell and her sisters Bonnie Slingerland and Nancy Sweet.

Carol spent most of her life in Carver supporting others. She played the organ for her church, sang in the choir, and worked with many community organizations. As a Brownie and Girl Scout leader, many children learned arts and crafts, especially sewing from this former seamstress. Carol was also an active member for many years in the American Legion Auxiliary. In her later years, she very much loved to play Bingo, and the family thanks the community of the Carver Council on Aging for their unwavering support of Carol.
Memorial visiting hours will be held on Friday January 27th from 4 to 8pm at the Shepherd Funeral Home, 116 Main St (Rt. 58) Carver. A Graveside service will be held on Saturday January 28th at 10am at the Central Cemetery in Carver.
Donations may be made in Carol's name to the Alzheimer's Association