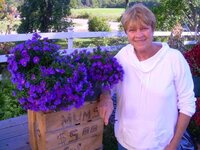 Priscilla Ann Elliott
Priscilla Ann (Mullins) Elliott passed away peacefully into the arms of Jesus on January 9, 2023 in Burke, VA. Priscilla was born in Brookline, MA on April 22, 1934 to Thomas F. and Margaret Emma (Fisher) Mullins of Medford, MA. Priscilla married the love of her life, the late Robert Elliott, in October 1957. They raised their family in Winchester, MA and later moved to Duxbury, MA in 1979.
Priscilla had many talents and hobbies including flower and vegetable gardening, cooking, making homemade jam, canning tomatoes, and going on nature walks. She was an avid reader and learner, and enjoyed going to her local library. Priscilla is remembered for her great love of the ocean, having grown up along Mystic River and enjoying the water. She loved spending time on the beaches of coastal New England and the Floridian coast.
Before having children, Priscilla worked in Boston at the Herald. While raising her family, she enjoyed being a school traffic officer. Ideal for mother's hours, this job allowed her to be near her home and help school children cross safely a few times a day, often singing "Oh What a Beautiful Morning" with them. She enjoyed being a preschool teacher's aide, as well as a job at a local Au Bon Pain- perfect for a coffee lover!
Priscilla and Bob had great compassion on others, and they were always willing to help, often opening their home to those that needed a place to stay. She took great joy in caring for her family, and being a wife, mother, grandmother and great-grandmother.
Priscilla's greatest joy was in her Savior, Jesus Christ. She was involved in her local church, and loved to worship in song and prayer, often taking her families and friends hands and praying for them in the moment. She is now face-to-face with her Creator and Sustainer whom she loved so much.
Priscilla was predeceased by her beloved husband, Bob, brothers Thomas Mullins Jr. and Bobby Mullins. She is survived by sisters Sheila Kanaly-Fountain and Maureen Robertson, both of FL, her brother David Mullins and his wife Susan of TX, sisters-in-law Marcia Fuller of Boxford and Dorothy Peterson of TX, brother-in-law Richard Elliott and his wife Jeanne of ME, daughter, Gayle Roberts and son-in-law Steve of NH, son David and his wife Celine of VA, former daughter-in-law Donna White of VA, beloved grandchildren, Heidi Beaman and her husband Nate, Rebecca Pond and her husband Tyler, both of OH, Melissa Elliott of Amsterdam, Matthew Elliott and Timothy Elliott of VA, as well as many beloved nieces and nephews and five great-grandchildren.
The family would like to thank Burke Health & Rehabilitation Center in Burke, VA for their wonderful care during Priscilla's time there, as well as Capital Caring Health Hospice. There will be a private graveside committal on Friday, January 20 at National Cemetery in Bourne, MA, where she will be laid to rest beside her husband. Services are taken care of by Shepherd Funeral Home in Kingston, MA. If desired, donations may be made to:
Burke Health & Rehabilitation Center
9640 Burke Lake Road, Burke, VA 22015