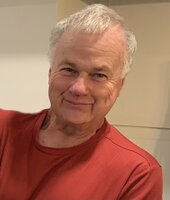 Leon Ronald (Lee) Boyde
Leon Ronald (Lee) Boyde 69, of Pembroke MA, passed away on 1/15/2023 in Hopkington, MA.
Leon was born in Boston MA to James Boyde and Elizabeth (Hartnett) Boyde on March 9, 1953. He went to high school at Don Bosco Technical High School and graduated in 1971. He went on to earn an Associates degree from Wentworth College. He worked as a Refrigeration Mechanic for Cox Engineering for many years. He enjoyed working in the yard, teasing his grandchildren, Archery, and collecting Baseball cards. Leon had been involved in Pembroke Youth Soccer and a Deacon of the First Congregational Church in Pembroke . He received a Union Member lifetime achievement award at his retirement in 2013
Leon is survived by his wife Janice (Thayer) Boyde of Pembroke MA. His Daughters Jennifer Boyde and Stephanie (Boyde) Zdenek and her husband Clifford, all of Pembroke and his son Christian Boyde and his wife Michelle (Loveless) Boyde of Marshfield, and his 5 grandchildren Ava, Mason, Carter Zdenek, and Leon and Corbin Boyde. He is preceded in death by his Mother Elizabeth Boyde.
Visiting hours will be held at the Shepherd Funeral Home, 216 Main St, Kingston from 4:00 to 8:00PM on Monday, January 23, 2023. A Funeral Service will take place at the Shepherd Funeral Home on Tuesday, January 24th at 11:00AM. Interment will directly follow at the Center Cemetery in Pembroke.
All donations may be made to Alzheimer's Association, (act.alz.org) or Road To Responsibility of Marshfield MA (rtrinc.org) 1831 Ocean St. Marshfield MA 02050 . The family wishes to extend their sincere gratitude to Golden Pond Memory Care for their dedication and unwavering assistance in assuring dignity.