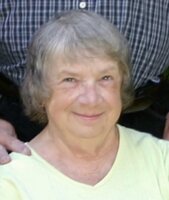 Patricia Ann (Santarpia) Main
Patricia Ann (Santarpia) Main, 86, of Wareham passed away on January 7th with her granddaughter and daughter by her side. Pat was born in Plymouth on November 24th, 1936 to James and Mary (Halunen) Santarpia. She was preceded in death by her husband of 30 years Billy D. Main, and by her sister Mary Ann Andrews.

Pat had a big heart and loved spending time with family and traveling the world to meet friends. She was a devoted and loving Grammie to twelve grandchildren and eight great-grandchildren (with one more on the way!), who brought her so much joy over the years. Pat loved children and spent many years being a nanny to several families. She also spent time working at the Fotomat on Cape.

Pat is survived by her brother John Santarpia (Beverly) of Carver, and by her brother-in-law Jack and his wife Carolyn Bell of Yarmouth. Pat is also survived by her children, Robert Peck of Utah, MJ Burgess of Wareham, William Zellars Jr of Yarmouth, and John Zellars (Kathy) of Yarmouth. And by all of her grandchildren, great grandchildren, and many cousins, nieces, and nephews, all of whom will miss her dearly.

A graveside service will be held on Saturday January 21st, 2023 at 11am at Union Cemetery, 29 South Main St, Carver, MA. A reception will follow the service at the Abigail Adams Room, Boston Tavern, 58 East Grove St, Middleboro, MA.
In lieu of flowers, donations may be made in Pat's name to Dreams for Emily, 22 Davis St, Taunton, MA 02780.