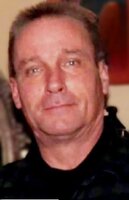 Michael William Richards
Michael William Richards, age 59, a beloved son, brother, father, grandfather, uncle and friend passed away unexpectedly at home on January 4th, 2023.

Michael was born in Brockton to Gloria (Murray) Richards from Hanover and the late Walter William Richards on October 6th, 1963. He worked in the union doing what he loved most as a carpenter for many years. He was the handyman amongst his family and friends, always able to fix any house or mechanical problem. He was the type of man to go above and beyond, to help wherever help was needed, especially his local church.

Michael was a dedicated member of the Christ Community Church in East Taunton. Even contributing to building the deck for the church. Throughout his time at the Christ Community Church, he made several friends who all bonded over their love for the Lord. He was well-loved by the church community and made great friends there.

Michael was a fun loving upbeat man with a soft spot for animals. He had a great sense of humor, always making others around him laugh. He enjoyed fishing and spending time with close family and friends.

Michael leaves behind his mother Gloria (Murray) Richards of Hanover, daughter Haylee Richards of East Bridgewater, son Michael Richards Jr of Plymouth, Grandson Grayson Waterman of East Bridgewater, brother Robert Richards and his wife Theresa of Scituate, sister Elissa (Richards) Salvucci and her husband Daniel of Hanson, sister Charlene (Richards) Stober and her husband David of Plympton as well as many
nieces and nephews.

A Graveside Service will be held at Halifax Cemetery at 11:00AM on Saturday January 14th. Family and friends are asked to gather at the Shepherd Funeral Home located at 216 Main St. Kingston, where the procession will begin at 10am.