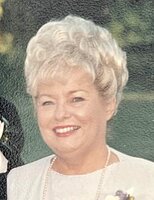 Dorothy Mae Steele
Dorothy Mae Steele, 86, of Middleborough, formerly of Brockton, Massachusetts, died peacefully at home in Middleborough surrounded by loving family Sunday, January 1, 2023. Dorothy was the wife of the late George W. Steele.
Born in Brockton, Dorothy was daughter of the late Loyed and Julia (Butler) Woodland. She was a graduate of Brockton High School, Class of 1954. Dorothy was employed by the Brockton Edison Electric Company for 15 years and the Registry of Motor Vehicles for 18 years. Dorothy greatly enjoyed traveling, antiquing, music, especially country music, bowling and billiards. Dorothy is survived by her son, Eric Loyed Steele and his wife Elisabeth Rose-Steele of Middleborough, and several nieces and nephews. Dorothy was sister to the late Loyed S. Woodland II and wife Geraldine, and the late Richard Woodland and wife Lynn.
Visitation will be held at the Shepherd Funeral Home, 116 Main Street, Route 58, Carver, on Friday, January 6, 2023, from 10-11am, followed by a Funeral Service at 11am. Burial will be at the Cemetery at the Green in Middleborough. Donations in Dorothy's name may be made to the Alzheimer's Association at www.alz.org.