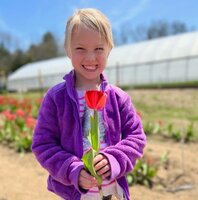 Lane Elizabeth Ladd
We are saddened to announce the passing of Lane Elizabeth Ladd on December 19th, 2022 after a brief and sudden illness. Laney was born to parents Jeff and Erin Ladd on June 19th, 2016. Laney had a vibrant and loving free spirit which was cherished by all who knew her. She was a kind, funny, affectionate and happy kid who gave the biggest hugs. Laney was beautiful, both inside and out. She loved soccer, lacrosse, skiing, dancing, horseback riding, fishing, clamming and family vacations. Laney loved looking for sea glass and heart rocks on the beach and always stopped to appreciate the beauty of the sunrise and sunset. She was an animal lover, an accomplished Bluefish Bridge jumper and most of all an amazing big sister and trusted friend. When she wasn't busy drawing or playing with her yellow lab Sailor, Laney could be found helping her Dad with projects around the house, having a dance party with her mom or playing Barbies with her sisters. What she cherished the most at the end of the day was her nighttime heart-to-heart talks with Mom.
Laney is survived by her loving parents, Jeff and Erin, her sisters Elle and Parker and her yellow lab, Sailor. She is predeceased by her grandfather, Parker Ladd. Laney also leaves behind her grandparents Susan and William Sweetman of Litchfield, CT and Allan and Joan Lane of Bedford, NH, many loving aunts, uncles and cousins and countless other hearts she touched.
A celebration of life will be held on December 28th at 10:00 AM at St. John the Evangelist Church, 410 Washington Street in Duxbury and virtually at https://www.stjohnsduxbury.org in Laney's honor. Please join the Ladd family in remembering our Laney Love's bright and beautiful life.
In lieu of flowers, please consider making a donation in Laney's name to the Chandler School Playground Project.
Subject line: Laney's Playground
Chandler PTA
93 Chandler St
Duxbury MA 02332