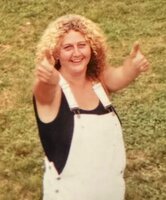 Darlene M. Walker
Darlene Marie (Waterman) Walker, 59, of Halifax, MA, passed away peacefully on Friday December 16, 2022 surrounded by the people who loved her most.
Darlene was born in Brockton to Earl L. Waterman and his wife, Mildred on June 20, 1963. She graduated from Silver Lake Regional High school in 1981. She worked in the Silver Lake High School cafeteria for over 10 years where she was adored by coworkers and students. She also greatly enjoyed her work with the sisters of Divine Providence. Darlene loved to play horseshoes, go fishing, listen to country music, and spend time with her family, especially her beloved grandchildren.
Darlene is survived by her husband Richard Wilson of Halifax; her children Morgan Walker, Benjamin Walker, Robert Walker, all of Halifax and Briana Walker of Maine; her siblings Kathleen Norris of Hanson, William Waterman of New Bedford, Diane Cole of Vermont, Edward Waterman of Plympton, Steven Waterman of Kingston, and Michael Waterman of Vermont; her grandchildren Levi and Alison Walker, both of Halifax; as well as her many nieces and nephews. She is preceded in death by Earl and Mildred Waterman, Linda Waterman, and David Waterman.
Visitation will be held at Shepherd Funeral Home in Kingston on Thursday, December 22 from 4 - 8 p.m. A funeral service will be held at Holy Apostles Parish in Halifax on Friday, December 23 at 11 a.m.
In lieu of flowers, please consider making a donation in Darlene's name to the ALS Foundation at the following link: https://donate.als.org/darlenewalker