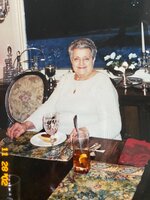 Rose D. Mercadante
Rose DeLia Mercadante, 99, of Quincy, passed away on Thursday, December 15, 2022.
Rose was born in Boston and a longtime resident of Quincy. She was the youngest of six siblings.
In her early years she worked at Etna Ins. Co. and later at the John Hancock Ins. Co. She loved to travel and enjoyed shopping for clothes, which always included the latest fashion style. Family and faith were at the core of her beliefs, and she looked forward to Sunday family gatherings. Rose was a strong family advocate and took care of close family relatives. She was very supportive of her two grandchildren and adored her five great grandchildren.
She was an excellent cook and was known to have lots of food for anyone that visited. Playing cards was a regular occurrence at her home and she thoroughly enjoyed Bingo with her friends. She was loved dearly and will be missed by all.
Visiting hours for Rose will be held at the Shepherd funeral Home on Thursday, December 22, from 10am to 11am with a Service at 11:00 followed by a burial at the St. Josephs Cemetery in Kingston, Ma.