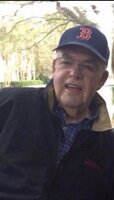 Kendall L Wilbur
Kendall L. Wilbur passed away after a long, courageous battle with Parkinson's disease on Wednesday, December 14th, 2022 at the age of 84.
Kendall was born in Brockton, MA, son of the late George and Ruth Wilbur. He grew up and graduated high school in Randolph and served eight years in the National Guard, raised his family in Abington, and retired in East Bridgewater. He is survived by his wife of 61 years, the love of his life, Irene (Sears) Wilbur and his two loving daughters, Lauren Finn and Kristine Champoux, and son-in-law Duarte Corte-Real. He is survived by his sister and her husband Ruthie and George Reynar, brother and his wife Norman and Margaret Wilbur, and is predeceased by his brother Donald Wilbur. He is also survived by his beloved grandchildren Amanda (Michael) Logan, Ashleigh (Daniel) Stevens, Shannon (Tyler) Irving, Riley Finn, Sam Champoux, and is predeceased by his cherished grandson Derek Finn. He was so proud to be a great-grandfather to Declan, Kendall, Ruby, and Beckett. He is also survived by many loving in-laws, nieces, and nephews.
Kendall was an operator for the MBTA for over 25 years and won multiple driver-safety awards. His favorite place was Walt Disney World where he made precious memories with his family to last a lifetime. He enjoyed playing poker with his friends, making trips to the horse races and Foxwoods, fishing, and watching the Boston Red Sox. Kendall's warmth and smile has impacted so many lives that it is no doubt his spirit and legacy will continue to live on. May he rest in the sweetest peace.
Kendall's family would like to thank the staff at Southwood Nursing Center in Norwell, and the ER staff at South Shore Hospital in Weymouth for their compassionate care.
Visiting hours for Kendall will be held at the Shepherd Funeral Home 216 Main St, Kingston, MA on Tuesday, December 20 from 4-8 PM. Funeral Services will begin at 10AM on Wednesday, December 21 at St Joseph Parish located at 272 Main St. Kingston, MA.