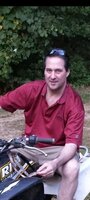 Christopher J. Finn
Christopher John Finn of Plymouth, formerly of Milton, died unexpectedly on November 30, 2022. He was 55 years old.
Chris leaves behind his brothers [Michael, Jimmy, Joey and predeceased brother Stevie, his beloved nieces and nephews Stephanie, Michael, Jonathan, | Kristen, Danny, Lindsey, Matthew, Emily and Connor and their extended families.
Chris was born to Frank and Wanda Finn in Milton. He graduated from Milton High School in 1985. Chris enjoyed the simple things in life which included
sports, cooking, fishing and spending time on the Plymouth waterfront and beach.