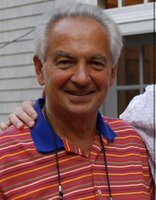 Donald A. Juliano
Donald A. Juliano, 87, of Duxbury MA, formerly of Scituate and Brockton, passed away peacefully on December 3, 2022 from complications due to Alzheimer's disease. He was born on December 11, 1934 in Brockton, MA. He is predeceased, by his son Donald G Juliano, his parents, Sebastian and Lucia (Cerce) Juliano, his brother Dr Peter and wife Barbara (Howes), his nephew Robert (Bobby), his brother Louis (Gene), his sister Louise (Balzarini) and her husband Charlie.

Don is survived by his wife Alice (Long), his daughter Jane Juliano, his son Edward and his wife Marguerite (Ferreira) Juliano, and his son Michael and his wife Betsy (Moore) Juliano, his daughter-in-law Josee (Belanger). He will also be greatly missed by his eight grandchildren: Sam Juliano (Melanie), Madeleine Hume (Carson), Rita Juliano, David Juliano, Michael Juliano,
Nicole Juliano, Lucy Juliano and Nancy Juliano. He is also survived by his sister Anna Juliano of Hingham and his niece Linda Higgins of Exeter, NH
He grew up in Brockton, graduating from Brockton High School in 1954. Don attended Curry College and University of Maryland where he received his insurance PC designation. Don served in the United State Army for 3 years during the Korean Conflict. He volunteered for the draft and was thrilled to be stationed in Fairbanks, Alaska where he could ski every day.
Don's career started in his father's footsteps-where he opened an Italian meat market, S Juliano's Market, on the East side of Brockton. The market was taken by eminent domain; this event opened his eyes to the real estate business. He worked in the real estate business for the rest of his career, owning and operating apartment buildings in Brockton and the surrounding area as well as building speculative single-family homes. Simultaneously, Don worked as an insurance broker for PS Dolan Insurance.
He retired in the mid 1990's and moved permanently to West Dennis where he drove a school bus to occupy his time. He enjoyed driving the young kids to school and sporting events all over Cape Cod. He could frequently be found riding his motorcycle, power-boating and relishing a meal of Italian food and wine. Don was also an avid skier throughout his life.
Above all, Don cherished the time spent with his family. Together they made great memories of fun times in Brockton, Humarock, West Dennis & Sugarbush, VT. They spent many summer days on board the "Alice Jane", where Don shared the open ocean and sunshine with his family. He also instilled his love of skiing to all of his children; enjoying years of weekends and holidays together at Sugarbush.

In lieu of flowers, donations may be made in Don's memory to The Alzheimer's Association (www.alz.org). A church service will be held at 12:00 PM on December 18, 2022 at St Paul's Church of the Nazarene 136 Summer Street, Duxbury, MA 781-585-3419. There will be a lunch reception immediately following