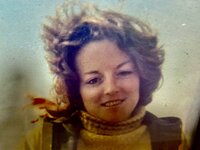 Brid J. Jackimowicz
Brid Johanna (Bartley) Jackimowicz, 75, of Plymouth, passed away on December 1, 2022. Beloved wife of 45 years to Michael Jackimowicz. She was predeceased by her mother and father John and Kathleen (O'Brien) Bartley; her stepmother Anna (Kelly) Bartley; her brother Malachy Bartley. Half-brother and sister Michael, and Catherine. She leaves her half-brother and sisters, Pearse, Anna and Blaithin of Dublin, Ireland.
Brid retired from the Town of Carver as Clerk in the Assessor's office and devoted her time to United Parish of Carver, and assisting in the Thrift Shop.
Visiting hours will be held on Tuesday, December 6th from 4-8:00 PM at the Shepherd Funeral Home, 116 Main St (Rt. 58) Carver. A funeral service will be held on Wednesday, December 7th at the Shepherd Funeral Home at 11:00 AM.