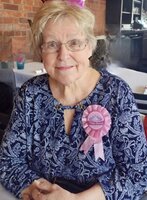 Patricia Hayman
Patricia (Mimi) Hayman, entered the kingdom of heaven on November 27,2022 at the young age of 85. She was the beloved wife of Chesley Hayman who passed in 2003. Daughter of the late Adam and Blanche Perakslis and sister of the late Adam Perakslis. She is survived by her daughter Kim Golubov and Kim's children Nadia & Aidan: her daughter & son in-law Candy & Chris Mazeika and their sons Kaspar, Adam & Ebin; her son &daughter inlaw Chet &Monica Hayman their daughters Lily & Grace; her son Shane Hayman; her daughter & son in law Heidi & Joe Carpender their children Joey, Justin, Tyler and Courtney.
Patricia was born in South Boston and lived most of her married life in Norwood, MA then her remaining years in Carver with her daughter Heidi. At age 50 she was a graduate of Peabody Nursing school as an LPN. She loved her work, pets, her children but most of all she loved her grandchildren. Always smiling and witty. She loved her vacations in York Me, the white mountains, Onset and absolutely her weekly trips to Market Basket. She also enjoyed her daytrips with her family, talking politics with her son, and lunch trips with her daugters and grandchildren. She was a proud Mimi of all her grandchildren.
Memorial Visiting hours will be held on Monday December 12th at the Shepherd Funeral Home, 116 Main St, Carver from 4:00 to 7:00pm with a Service beginning at 7:00pm.