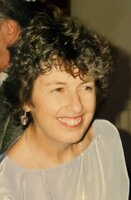 Dorothy M. Wallace
Dorothy Marie Wallace passed from this life on Nov. 20th, just weeks shy of her 85th birthday. Lovingly known as Dorry, she was born Dec. 4, 1937 in Milton, MA to the late Richard A. and Dorothy L. Wallace. Predeceased by her brothers Richard and Benjamin, she is survived by her brother Neil of Elkins, NH, and sisters Mary Brunelle of Vero Beach, FL, Jane Francis of Kingston, MA, and an extended family of loving nieces, nephews, their families and many very dear friends.
A graduate of Emmanuel College and MFA from Boston State College, she pursued a successful career as an Art Teacher in Lexington and Weymouth, MA, California, and most recently in Alexandria, VA.
Always charitable and kind with a wonderful smile and generous nature, she will be missed by all who had the pleasure of knowing her. The family would like to thank the loving care she received by the staff at Atria Marina Place and Wingate at Silver Lake. There will be a service to celebrate Dorry's life at a later date.