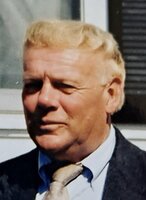 Alan W. Roby
Alan William Roby, 87, passed October 31, 2022. He was the son of Nathan and Alice Roby of Carver, Massachusetts where he was raised and lived most of his life.
Alan is predeceased by his daughter Maureen Roby and brother Leonard Roby. He leaves his other daughter Stacy Moniz of Swansea, his son in law Greg Moniz, two grandchildren, three great-grandchildren and her brother Waldo Roby of Lakeville.
He formerly owned Roby's Oil and Allied Marine Surveyors. His favorite hobbies included piloting his airplane, and drag racing his cars at New England Dragway. He loved boating and being on the water, and was a member of the Plymouth Yacht Club. Never one to stay still for long, he also became an environmental engineer and carried out Title 5 inspections into his eighties. His dry sense of humor and love of the Patriots and all things racing will be missed.
Burial will be private with a future memorial to be announced.