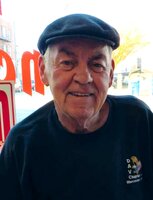 William T Forde
William Timothy Forde, 72, of Rockland, MA passed away peacefully on October 25, 2022 with family by his side. William was born on December 1st, 1949 to the late Daniel and Nora (Kennedy) Forde. He was the beloved brother to Sheila Harris and husband John of East Falmouth, MA, the late Maureen Forde of Wellesley, MA, the late Michael Brendan Forde of Provincetown, MA, Kathleen (Kitty) Forde of East Falmouth, MA, Eileen Forde of Naples, FL, Patricia Forde of East Falmouth, MA, Daniel Forde and husband Patrick of Tucson, AZ, Noreen Hickey and husband John of Marshfield, MA, and Timothy Forde and wife Joanne of Milton, MA.
Formerly of Milton, William grew up in a large loving family, graduating from Milton High in 1969 and went on to serve in the US Army during the Vietnam War, earning several service awards and medals. After proudly serving his country, he went on to devote his service to the Town of Milton as a firefighter in East Milton Square for many years. He ran his own successful masonry company from his home in Pembroke, where he resided with his family for over 25 years.
He is survived by his devoted wife Terry, daughters Krista Garrity (Forde) and husband Shawn of Pembroke, MA and Brenna Gannon (Forde) and husband Casey of Clinton, MA and cherished grandsons Cayson and Bodie Gannon, as well as many nieces, nephews and lifelong friends.
He was loved by many and will be missed dearly.
Calling hours for William will be held at the Shepherd Funeral Home in Kingston , November 6th from 1 to 5pm. A Funeral service will be held on Monday November 7th at 11am at the funeral Home. Burial will be private.