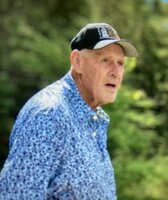 John "Jack" W. Ricker
John "Jack" W. Ricker 87 of Duxbury died suddenly at Beth Israel Deaconess Hospital Plymouth on October 21,2022. He was born September 5, 1935, in Quincy to Earle and Beulah Ricker.
Jack graduated from Duxbury High School class of 1953, going on to attend BU & Bentley College. Jack played many sports while in school continuing after graduating coaching a men's baseball team. He worked many years for Boston Whaler and then as an independent truck driver, after retirement Jack worked the Ricker Family Cranberry Bogs alongside his brother Rick.
Jack enjoyed playing golf, a former Plymouth Country Club member. At an early age Jack became a dedicated Atlanta Braves fan attending games with Grandpa Ricker back when the Braves were the Boston Braves. Jack was the happiest being in the Adirondacks climbing & trailing the high peaks. Going to Saratoga Race track every summer betting on the thoroughbreds.
Jack is survived by his brother Earle "Rick" Ricker and his wife Roxanne.
He was predeceased by his parents and brothers Clayton and Wayne Ricker.
Relatives and friends are invited to attend Graveside service at Mayflower Cemetery Duxbury on Friday, November 4th at 11 AM.
In leu of flowers, donations can be made to St. Joseph's Indian School 1301 N Main St, Chamberlain, SD 57325 or at saintjosephs@stjo.org