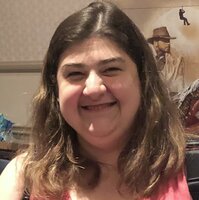 Julie E DelGreco
We are sad to announce the passing of Julie E. DelGreco of Orlando, FL, formerly of Kingston, MA. Julie was 36 years old and passed away unexpectedly on October 10, 2022.
She is survived by her mother, Virginia E. (Denvir) DelGreco, a sister Tina M. O'Connell and her husband Brendan, and niece, Stacy O'Connell. Julie leaves her longtime partner, Daniel Mann of Orlando, FL. Julie is also survived by many aunts, uncles and cousins. Her father, Robert C. DelGreco, predeceased her in 2019.
She graduated from Silver Lake High School in 2004 and received her bachelor's degree from Johnson and Wales University in hotel operations in 2008. Following graduation, Julie was employed by Disney where in addition to her work she volunteered for Disney Charitable events as well as events benefitting Make-A-Wish Foundation and various cancer research fund raising activities.
Julie's memorial service will be held on October 29, 2022, from 9am to 12pm at Sheppard's Funeral Home, 216 Main Street, Kingston, MA. A grave side service will follow at Saint Joseph's Cemetery, Elm Street (Route 80), Kingston, MA.
She will be dearly missed.