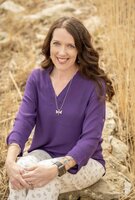 Jodi Lee LaFountain
Jodi Lee LaFountain, age 41, of Carver, passed away on Friday October 14, 2022, at her home, surrounded by her loving family and friends after her courageous battle with lung cancer. Jodi was the wife of Brian LaFountain and loving mother of three beautiful children. Born in Plymouth by her mother, Leslie Costa and father Jerry Costa of Carver. Jodi was a graduate of Old Colony Regional Vocational High School and Bridgewater State College where she earned her bachelor of science in Psychology and Education. Jodi worked as an educator in the Plymouth Public School system for many years where she last resided at at her dream position at Plymouth North High School. She was an admired dance Instructor at the Manomet School of Dance where she shared her love and passion for dance with her students.
Jodi was a loving wife and incredible mother. She cherished her family and friends and all the time she was able to spend with them. Jodi loved to spend her time dancing, working and making memories with her family. Her favorite thing to do was attending her children's' many sporting activities, family fun days, helping others and spreading kindness. Jodi was incredibly optimistic even throughout her terminal battle she radiated positivity. Her home had an open door policy, she loved hosting events and parties for her kids and their friends whom she loved as her own.

Jodi is survived by her husband Brian, three children, Addison Faith, Chase Boston and Alivia Pearl, her mother Leslie Costa her father Jerry Costa, of Carver her brother Jerry "Tripp" McClellan and his loving wife Kimberly McClellan. She is also survived by her many adored nieces and nephews.
Visiting hours will be held at Shepherd Funeral Home, 216 Main Street., Kingston on October, 18th, from 4:00 - 8:00 PM. The funeral mass will be held at St. Mary's church, Plymouth on October 19th at 10:00 am
In lieu of flowers, memorial donations can be made to the "Jodi's Journey Scholarship Fund". Jodi wanted to continue to help kids on their journeys through life, at PO Box 630, Carver, MA 02330.