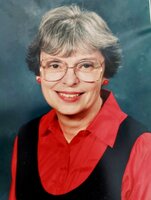 Patricia R. Corrow
Patricia R. Corrow, 84 of Carver, passed away peacefully on October 1, 2022.
Beloved Teacher, Traveler, Aunt and Mentor.
She is the daughter of the late Frederick E. Corrow and Rose (Rossi) Corrow. She leaves behind her nephew Vincent Lawcewicz, great-nieces Gina and Stephanie Pendleton,Janelle Lawcewicz , Sarina Blevins and many great-great nieces and nephews.
Visiting hours will be held at the Shepherd Funeral Home, 216 Main St, Kingston on Friday, October 7th from 4:00 to 8:00PM. A Funeral mass will be celebrated on Saturday, October 8th at 11:00AM at St. Jospeh Church, Kingston.