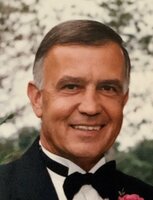 William Edward "Bill " Burns
William Edward (Bill) Burns, 79, longtime resident of Wilmington, Massachusetts; Mitchellville, Maryland; and The Woodlands, Texas passed away on September 19, 2022, in Kingston, Massachusetts.
Bill was born in Medford, Massachusetts to David and Martha (Micalizzi) Burns on July 13, 1943. He spent most of his childhood and early adult life in Providence, Rhode Island, an area for which he had great nostalgia because of the time spent with friends and his brother, Dave. He attended high school at Lasalle Academy in Providence and graduated in 1961. He served in the Rhode Island Army National Guard from 1962-1963. In 1968, he married his longtime childhood friend, Jeanne Panetta, and moved to Wilmington, Massachusetts where they raised their family. He worked as a computer sales and marketing executive for Digital Equipment Corporation for most of his professional career. He earned a certificate in executive leadership from the Graduate School of Industrial Administration at Carnegie Mellon University in 1991.
He was a wonderful father and worked incredibly hard to provide the best life for his family. He enjoyed his work immensely and was grateful for the many friends he made and sustained throughout his career. Bill was an avid golfer and was at his happiest when on the golf course with friends and family.
Bill is survived by his wife, Jeanne (Panetta) Burns; son, William E. Burns, Jr., and daughter-in-law Suzanne Burns; daughter, Amy Brown; brother, David J. Burns, Jr., and sister-in-law Nancy Burns; grandchildren Sydney L. Colburn, William T. Burns, Steven A. Brown, Ellie G. Burns, and Jane B. Burns as well as several brothers and sisters in law, nieces, and nephews. He is preceded in death by his parents, David and Martha Burns and his granddaughter, Hannah N. Burns.
A funeral service will be held at Holy Family Church in Duxbury, Massachusetts on September 30, 2022, at 10:00 A.M. with the Very Reverend Robert J. Deehan, VF officiating. Shepherd Funeral Home in Kingston, Massachusetts will be handling the funeral arrangements.
Memorial donations may be made to Youth on Course at youthoncourse.org. Youth on Course is a non-profit organization that works to eliminate the barrier of cost and provide scholarships to young people interested in the game of golf.