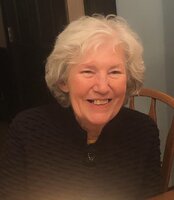 Ethel M. Benjamin
Ethel May Benjamin, 78, longtime resident of Pembroke, MA passed away peacefully on September 19, 2022, surrounded by her loving family. Ethel was born in Roslindale on May 5, 1944, to the late Joseph and Mary Welch. She was raised in Dedham where she met the love of her life and future husband, the late Francis J. Benjamin, while both teens held jobs at Rust Craft Greeting Cards.
Together, Frank and "Ethie" proudly raised five children at 202 Chapel Street where they created many lasting and fond memories with family and friends. The same can be said of numerous family summers at Chase's Ocean Grove in Dennisport, MA.
Ethel was the loving mother of Paula Marino, Catherine Benjamin, Deborah O'Brien, Julie Bevilacqua, and the late Francis Benjamin Jr. She was the loving grandmother of Kristyn & Justin Marino, Sean & Kayla Turke, T.J. McMorrow, Kiley & Sydney O'Brien, Grace & Daniel Bevilacqua and the late Patrick R. Benjamin. Ethel was the great-grandmother of Mackenzie & Brandon Benjamin as well as the loving aunt to many nieces and nephews.
Ethel is also survived by her siblings Joseph Welch, Ruth McKay, Carol Bailey, & Marian Curran. Ethel was predeceased by her sister and brother, Paula & William Welch.
First and foremost, Ethel was all about her family. She thoroughly enjoyed large holiday gatherings as well as simple visits from family and friends. Whether discussing her beloved Red Sox, what she may have bought on QVC that day, or the latest happenings of her grandchildren, Ethel was always quick to offer a cup of coffee and a seat at her kitchen table.
A funeral mass for Ethel will be held at 10:00 AM on Thursday the 22nd at St. Joseph's Church in Kingston.
At the family's request the burial service will be private.