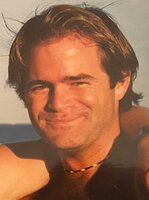 Karl Grafton See
Karl Grafton See died of cardiac arrest on September 9 in Duxbury, MA.
He was born on October 2, 1970 in Brunswick, Maine and raised in Duxbury, attending Duxbury schools.
Karl graduated from The College of Wooster and had a fulfilling career as a development officer with non-profits including Earthwatch, the New England Aquarium, the New England Center for Homeless Veterans, Big Brother Big Sister, and the Conservation Law Foundation. He was a charming, loyal friend and colleague with an endearing sense of humor that touched all he met along the way. He spent summers as a camper and counselor at his beloved Camp Pemigewassett in NH, returning on many October birthdays to climb a mountain and take a polar bear dip in Lower Baker Pond. He loved all aspects of the New England outdoors including hiking, skiing, fishing, sailing, and year round surfing.
He leaves his daughter Kay, parents Alexander (Sandy) and Mary Ellen (Emmy) of Duxbury, brother Zachary and his wife Alison with their children Edgar and Marlena of Cambridge, and numerous adoring relatives.
A celebration of Karl's life will be held on a future date. Karl's family is grateful for any contributions in Karl's name to the Fred Rittner Pemi Campership Fund c/o Bob Zock at 98 Birch Hill Road, Warner NH 03278.