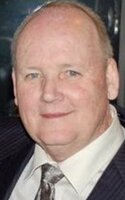 David L. McSharry
David L. McSharry of Duxbury, MA passed away in the loving arms of his son and wife on August 23, 2022. David was the fifth child of Thomas and Mary McSharry's thirteen children. Dave attended Braintree Public Schools, Archbishop Williams High School ('64) and Stonehill College.
After graduating college, he taught Chemistry at Rockland High School. He left teaching in 1984 to join his brothers at McSharry Brothers, Inc. building homes and condominiums. In 1994, he assumed the management of the family-owned Atlantic Country Club in Plymouth, MA and spent the past 28 years as manager.
Dave was the beloved husband of Judith (Donahue) McSharry for the past 51 years. He was the cherished father of Margaret (Meg) Spada, David McSharry, and Maura McSharry Bickford, and the father-in-law to Shaun Spada and Chris Bickford. He was blessed to be the Papa to Shae, Brooke, and Molly McSharry and Sofie, Tessa, and Sam Spada. He is survived by his siblings: Thomas (Patty) McSharry, Mary Rice, Frances (Alden) Cook, Ellen (Dick) Lauria, Margaret (David) Watts, Michael (Carol) McSharry, Mark (Mary) McSharry, John (Nancy) McSharry, Liz (Peter) Healey, Joe McSharry, and brother-in-law Roger Wells. He was predeceased by his sisters Patty LaConte and Dianne Wells. He also leaves behind 49 nieces and nephews.
Relatives and friends are invited to join the family during visiting hours on Wednesday, August 31, from 4-7 PM at the Shepherd Funeral Home, 216 Main Street, Kingston, MA. On Thursday, September 1, a funeral mass will be held at the Holy Family Church, 601 Tremont Street, Duxbury, MA at 10:00 AM followed by a burial at the Mayflower Cemeterary in Duxbury.
In lieu of flowers, Donations in David's name can be made to Hope Floats, 4 Elm St, Kingston MA, 02364 or at www.hopefloatswellness.org