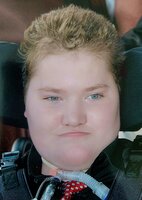 David Joseph Freitas
David J. Freitas passed away on July 20, 2022 surrounded by his loving family. He is survived by his parents David and Donna Freitas, sisters Deanna Freitas, Danielle Avilla and her husband Michael Jr., his niece Madison Avilla, Grandmother Mary Kingsbury, and Godmother Cathy Tremblay. David is predeceased by his sister Darlene Mary Freitas.
David grew up and lived his life in Carver, MA. He graduated from Carver High School surrounded by family, friends and his favorite faculty. He loved to help out at the local Food Pantry.
David loved his dogs (all 9 of them), music, karaoke, fishing, traveling, playing pranks and watching sports especially the New England Patriots.
David had a smile and laugh that lit up the lives of everyone who knew him.
He was strong and brave even on his toughest days.
The family would like to thank his at home caregivers, Patrice, Erika, Sandy, Brenda and Adrianna for all of their love and support and also their amazing care over the years of not only David but his whole family. The family is also very grateful to the people of 11 South, Dialysis Center, the ED and the PACT team at Boston Childrens Hospital for all of Davids care. In lieu of flowers the family asks for donations to be made in David's name to: Boston Childrens Hospital so they can continue the wonderful care of children like David.
Calling hours will be held Tuesday July 26, 2022 from 4-8pm. Wednesday July 27, 2022 a Service will be held at the Shepherd Funeral Home 116 Main St. (Rte 58) Carver at 10:00 am to Knollwood Memorial Cemetery.