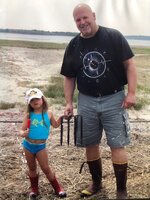 Raymond F. Monsini Jr.
Raymond Ferinand Monsini Jr. Age 64, a resident of Kingston, passed away Wednesday, June 15, 2022 after a courageous battle with cancer.
Ray was one of five children born and raised in Brockton, Whitman and Plymouth
He is survived by his wife Marybeth Monsini (Solari) and his daughter Gabrielle Monsini; father Raymond Monsini Sr.; mother Nancy Monsini (Strangis); brother James Monsini; sisters Lori Monsini, Cynthia Garland and her husband John; Ronda Shurtleff and her husband Bob; and his many nieces, nephews, aunts and uncles.
Ray was a retired Tunnel Worker for the Local Union #88.
Ray enjoyed playing horseshoes, Cards and watching ANY & ALL sports.
One of his favorite pass times was watching the Three Stooges and Little Rascals reruns with his daughter and forever wishing "Cotton was a Monkey".
Ray, aka "Sharky"'s world revolved around his family and friends. Ray was everybody's protector, if you were in his circle of family or friends "He had you" and you knew it.
Ray was the life of the party and knew how to Work, Live and Play hard. He was a very funny guy who had a nickname for EVERYBODY!
His fierce love for his daughter, Gabrielle, was unequaled. He spent the last 17 years in awe of her brilliance and talent forever knowing he was a part of that
At his request and that of the family, Services will be private. There will be a celebration of life in the near future at the Hilltop Athletic Club
In lieu of flowers, a college fund is being set up: VENMO; Gabrielle Monsini @ Marybeth - Monsini