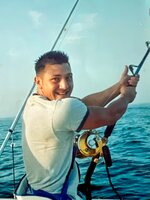 Steven R. Putney
Steven was a paving foreman at Scott's Paving & Sealcoating Inc and Southeastern Asphalt since high school.
Steven enjoyed deer hunting, tuna fishing and working on motorcycles, trucks, hot rods, and spending time with his family. Steven was full of life, and he lived life on the edge. Most importantly was the love he had for his three children.
Steven survived by his life partner of 14 years Arlie Schneider, of Wareham. His children Steven C. Putney 11, Maxx W. Putney 9, & Lola J. Putney 1. Grandmother Joyce Putney of Carver and Eileen Lollis of Pembroke. Father, Steven T Putney of carver. Mother, Sharon Quintal of Fall River. Sister Sasha Machie and spouse Derek Machie of Fall River. Brother Scott Putney, and spouse Ashley putney of carver. Sister Sarah Faulkner and spouse Eric Faulkner of Sandwich. Brother Austin Putney of Carver. Also several nephews and nieces.
Memorial visiting hours will be held on Saturday June 11th, from 12-4:00 PM at the Shepherd Funeral Home, 116 Main St, Carver. Celebration of Steven's life will be held following the service at the Plymouth Rod and Gun Club, 225 S. Meadow Rd, Plymouth.