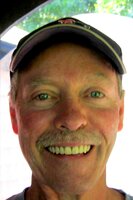 John ""Jake"" O'Donnell
O'Donnell, John (Jake) (64) passed away on February 6, 2022, son of the late Frederic and Josephine, predeceased by his wife, Malia Groppenbacher, Cox, (Llanos), his sister Annette, brother Bruce and brothers in-law: Al Prokop and John Hearson. Survived by his loving siblings and their spouses: Mary and John Welch of AZ, Ruth Hearson of Duxbury, Ellen Prokop of Haverhill, Peter and Angela of Falmouth, Cathy and Joe DiLiberto of NJ, David and Carol of West Roxbury, Tim of Cambridge, Hugh of CA, Leo and Sheila of AZ, Grace of Framingham and many loving nieces and nephews, cousins, grandnieces and grandnephews.
Jake was a 1976 graduate of Boston Latin School. He worked for many years as a meatcutter at Sklar and Star Markets before moving to Hawaii where he was a meat cutter and glass cutter/installer for many years. He enjoyed life, playing the bongos, playing soccer for Canary Square, surfing, fishing and all water sports. He was active in various community sports groups, including Captain of the paddling squad in Oahu, Hawaiian Society Canoe Racing Association. He returned to MA seven years ago and became an active member of the Beal House of Kingston, MA AA and was proud of achieving seven years of sobriety. He is grateful for the friends in his life, in particular: Paula Broderick, Kathie Besarick, Rollie Critenon, John Bove, Jack Cahill and Mike Haney. All his siblings gratefully appreciate our sister, Ruthie's unwavering support of Jake through his most difficult times. In lieu of flowers, donations to MA Association of the Blind and Visually Impaired, 200 Ivy St., Brookline, MA 02446, www.MABVI.ORG are appreciated. A memorial celebration of his life will be held at Holy Family Church, 601 Tremont Street, Duxbury, MA on Saturday, May 28, 2022 at 10:00 a.m., with gathering of family and friends, followed by a funeral mass at 11:00 a.m. To be included for the luncheon gathering after the service please contact Graceodonnell0@gmail.com by May 19, 2022.