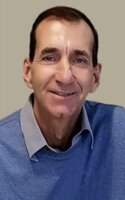 John (Jack) F. Tura
John (Jack) Francis Tura, born May 24, 1960 and died on April 1, 2022. John passed away in Escondido, California after a short illness. He was the son of John and Dolores Tura of Kingston.
Jack was active in Little League, Hilltop Basketball and Youth Football. He also coached a little league baseball team. He was a communicant of Saint Joseph Church, serving as an altar boy and singing in the choir. Jack attended Kingston Schools and graduated from Silver Lake High School and attended the University of Massachusetts. Jack was an avid New England sports fan and followed his beloved Red Sox, Patriots, Celtics and Bruins. He worked in the entertainment industry in California.
Jack Leaves his sister Patricia and brother-in-law Steven Smart of Plymouth, his brothers Michael and Daniel of Plympton, his niece Shayla Smart and great nephew Barrett Payson. He also leaves behind aunts, uncles, cousins and many friends near and far. One close friend described Jack as the kindest man he had ever known. Jack was well loved by everyone who came into his life and lived his life to the fullest. This is his legacy.
Memorial visiting hours will be held at the Shepherd Funeral Home, 216 Main St, Kingston on Sunday, May 1st from 1:00 to 5:00PM. A funeral mass will be held at the St. Joseph Church in Kingston on Monday, May 2, at 10:00AM. Interment will directly follow at St. Joseph's Cemetery, Plymouth.
In lieu of flowers, donations in Jack's name can be made to Myra H. Kraft Charitable Foundation. 1 Patriot Place, Foxboro MA, 02035.
St. Joseph's Church, 272 Main St. Kingston, MA 02364.