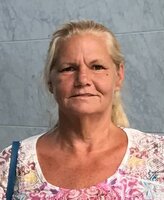 Cynthia Louise "Cindy " Griswold
Cynthia "Cindy" Louise Griswold, 60, died after a courageous battle with cancer on April 12, 2022, at home in Pembroke and surrounded by family. She was born on December 14, 1961, in Brockton, the daughter of Almon W. Griswold and Charlotte V. (Allen) Griswold.
Cindy graduated from Silver Lake Regional High School, Class of 1979, and worked for many years at Andrea's Police Supply in Quincy. She enjoyed camping, yard sales, beach days, traveling, and spending time with her family.
Cindy was predeceased by her parents. She is survived by her loving children, son Joshua O. Griswold and daughter Samantha Sanchez, her husband Rene, and granddaughter Charlotte, all of California; sister Joanne and her husband T. Rogers Thayer, of Florida; brother David W. Griswold, of Pembroke; Uncle Edward Allen, of Florida. She is also survived by her partner of many years, Richard "Dick" Moran. She is also survived by nieces Jennifer Lakey and Jessica Nogueira, nephews Timothy Kane and Chris Andrea, and many great nieces and nephews as well.
A memorial service will be held 11:00 a.m. this Friday, April 15th, at Calvary Baptist Church, 429 Monponsett Street in Hanson.