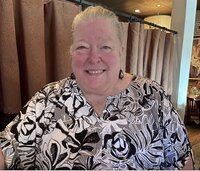 Mary L. Dezenzio
Mary L. (Murphy) Smith Dezenzio, 71, of Carver, formerly of Bronxville, NY, passed away on Sunday, April 10, 2022. She was the beloved wife of Joel Dezenzio of Carver. Loving Mother to Christopher Smith and his wife Elisha of MA, and Brian Smith and his wife Linda of MA. Daughter of the late Matthew and Mary (Greenwalt) Murphy. Sister to Matthew Murphy and his wife Paula of NY. Cherished Grandmother to five grandchildren, Gabriel, Daphne, Kendall, Colin, and Riley Smith, and survived by many cousins.
An alumna of Wilson College, Mary was a well-respected medical transcriber for much of her career. She continued her parents love with genealogy, working on creating unique family trees. She was a creative writer, poet, and enjoyed designing custom gift card moments for each family member. She was deeply loving and caring, touching the hearts of all who came to know her. She was a true angel.
Visiting hours will be held on Monday, April 18th from 10:00 AM - 12:00 PM at the Shepherd Funeral Home, 116 Main St (Rt. 58) Carver. A graveside service will immediately follow at Central cemetery in Carver. Casual dress is acceptable.
In lieu of flowers, you can send donations to the American Cancer Society. (https://donate3.cancer.org/)