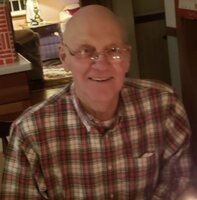 Ronald E. Sherry
Ronald Eugene Sherry, 82, of Pembroke, passed away on April 3, 2022.
Beloved husband to Patricia (Lyon) Sherry of Pembroke.
Ron was predeceased by his parents Otis and Dorothy (Doverspike) Sherry, and siblings, Wayne, Gail, Thomas, Leon, and twin brother Donald. He is survived by his sister Jean.
Ron was the loving Father to Daughter, Jennifer (Joe Turner) of Reading, UK, and Son, Patrick (Kerry Janhola) of Halifax.
He was the cherished grandfather of Brian, Paige, and Kevin Sherry. Grandpa will be greatly missed by his grandkids, they have learned from the best and will carry on his legacy.
Ron grew up in western Pennsylvania, son of a coal miner. His family moved to New York, where he finished high school and met Patricia, who became his wife of almost 60 years. He enlisted in the Navy, where he served for 21 years, earning the rank of Chief Warrant Officer (CWO4). After retiring from the Navy he moved his family to Massachusetts and worked at the Pilgrim Nuclear Power Plant for over 25 years. In his retirement Ron fulfilled his sense of duty by working with the American Legion Post 143 out of Pembroke. He also enjoyed traveling to Las Vegas with Patty and Disney World with his grandkids (many, many times).
Visiting hours will be held on Sunday, April 10th from 1-4:00 PM at the Shepherd Funeral Home, 216 Main St (Rt. 106) Kingston. Ronald Sherry will be laid to rest with military honors at the MA National Cemetery in Bourne on Monday, April 11th at 12:30 PM. A procession will be leaving from the Shepherd Funeral Home at 11:45 AM and is open to anyone who would like to attend
In lieu of flowers, donations may be made in Ronald's name to: American Cancer Society at www.cancer.org and/or American Heart Association at www.heart.org.