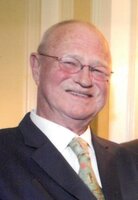 Guy Michael Stevens
Guy "Michael" Stevens of Middleborough, Ma. passed away on January, 11, 2022 at age 73. He was born in Boston on January 29, 1948. He is survived by his loving wife, Susan, sisters-in-law; Joan Garrity and her husband Bob of Hingham, Lisa Cerrato and her husband Willie of Carver, Michelle Herr and her husband Tom of Stoughton, brother-in-law Paul Harrison of FL. His friends who he always thought of as brothers, Rick Duley and Carl Keyes. He is also survived by many nieces and nephews. He was pre-deceased by; his parents Guy Stevens and Stella(McCullough) Stevens, his sister Pat (Stevens) Porter and her husband Jim, brothers-in-law John Harrison and Steven Harrison.
Michael was raised on a farm in Scarborough Maine, where, at a very young age, he learned the true meaning of hard work. He attended Scarborough schools and played trumpet in the school band, where his lifelong affinity for music and instruments began. He was also an athlete who excelled at baseball and basketball. Michael's sister Pat and her family had a summer camp on Stearns Pond in Sweden, Maine where he was always welcome to join in on the fun of swimming, fishing and stories around the campfire.
Michael enlisted in the army in 1966 and spent 3 years in Germany, he was trained in nuclear warhead missile testing and maintenance. He was a true patriot and proud of his service to his country. After the military, Michael pursued a career in Information Technology. He attended Control Data Institute and spent most of his professional career as a computer programmer at B&L Associates, of Natick, Ma. Mike was a devoted employee who maintained many friendships from the office, he retired in 2013, after 30 years.
Mike was a longtime resident of Middleborough, Ma. where he and his wife Susan lovingly restored their old farm house that remained their home for over 32 years. It was a 'sliver of Maine here in Massachusetts', he'd sometimes say. During the last five years of his retirement, Mike soaked up the sun and warm winters at their home in Barefoot Bay, Florida.
He was an outdoor enthusiast who enjoyed softball, boating, fishing, the ocean, and snow skiing. He combined his passion for photography and nature by producing countless beautiful photographs, many of which were published in the Middleborough Gazette. He was particularly psyched when, on several occasions, his pictures made 'front page, above the fold'. Michael was also mechanically inclined, after breaking down his MG and Harley Davidson to nuts and bolts, he restored them to better than new condition. He enjoyed the help and company of many friends (especially his late brother-in-law Steve) in pursuit of these and numerous other projects.
Mike was a kind, gentle soul with the happiest smile in the world. He will never be forgotten but forever remembered and missed by all who were fortunate enough to know him.
Visiting hours will be held at Shepherds Funeral Home in Carver, Ma on Thursday, January 20, 2022 beginning at 10:00 am, with a memorial service at 11:30. A graveside service will follow at the Bourne National Cemetery in Bourne, Ma