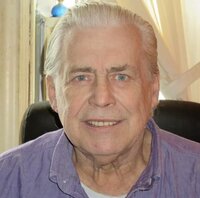 Raymond Brugliera
On Saturday, January 8, 2022, Raymond Brugliera, of Plymouth MA, passed away peacefully into the arms of our Lord. It gives us peace to know that he is finally reunited with his wife of 55 years, Alice, and two of his children, Ray Jr and Terri, as he missed them all so very much.
Ray was born April 11, 1943 in Brockton MA to Louis & Josephine Brugliera. He was the middle son of the 3 boys born to them. He formed tight and lifelong bonds with his brothers Louis, the eldest , and Joseph, the youngest. They spoke often and shared all of life's adventures. Visits were especially cherished.

As a young man, Ray had an intense and spiritual relationship with God . He served as alter boy in his church. This fortified and satisfied him during his High School years at Monsignor Coyle in Taunton where he was a quiet academic.
Ray considered following a structured religious path but when he met Alice, he knew that his path was with her. They married in June 1962 and went on to have 5 children: Tami, Ray, Terri, George & Jessie. Dad had wanted a dozen! Ray loved spending time with his own kids and welcomed and enjoyed his children's friends by treating them all as if they were his too! Most of these "extra" kids that grew up with us have kept close ties with Ray well into adulthood. He really loved that.
Ray was also a bit of a rebel. As a young man, he owned and operated his own plane. It was a "project" plane and Mom swore that it wouldn't take the air but fly it -ripped canvas and all -he did! Mastering loops and dives, he could shut off and restart the engine in a spinning acrobat act that he loved doing especially for her. She did not love it..

Ray was an herbalist and a connoisseur of food. He would attempt to harvest, cook and eat anything that swam, walked, crawled or could be dug up. He had an amazing palate and shared his love of food with all of us. He grew up working with his brothers in the family diner in Mansfield. Ray and Alice themselves owned and operated 3 restaurants during their lifetime together: Alice's Restaurant of Middleboro MA, Grampi's of Carver MA and The Stonehouse in Vermont.
In later years, post retirement, Ray and Alice lived a quiet life in Plymouth, enjoying the local scenery and seafood daily, often talking about how happy they were to be able to live in such a beautiful town for the last 30 + years.
They had their share of health issues during these years and so travelling or foraging was limited. Adult children Tami, George & Jessie, and partners, brought much joy to their lives.
Ray and Alice doted on their grandsons very much: Nick, Casey and Alex. Great granddaughters came along and also brought them great happiness: Lyla Violet, Evelyn Ivy and the newest sweetheart Aliya stole Great Grampi's heart all over again.

I know that Ray would like to thank all of you for being such an important part of his life. Aunt Kathy. Paul. Nurse Nancy. Wendy. The staff at Beth Isreal. There are others, too and you know who you are. Thank you.
Graveside services and burial is at the family plot at Center Cemetery in Hanover,
11 AM , Wed January 12.
All are invited to attend this short ceremony.