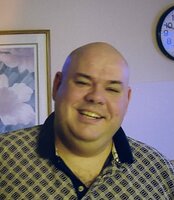 Pedro Garcia
Pedro Garcia
November 12, 1968 – January 2, 2022
The world lost an amazing man with the sudden passing of Pedro Garcia. He was born in Lisbon Portugal in 1968 and came to live in America during its 200th bicentennial birthday, 1976, at the age of 8. This must have been the birth of his intense patriotism.
He grew up in Falmouth, attending Upper Cape Cod Regional Technical High School. Before graduation, he met the love of his life, Kendra. High School sweethearts, they eventually married in 1990 and built their family home in Kingston.
Pedro was widely known to be thrifty and prudent. He told youhe was. He happily helped and shared his strategies to many, helping many that he was in contact with along the way.
Two of the proudest moments of his life were the births of his children; Abby and Nick. Pedro and Kendra now had their family, something Pedro prized above everything.
Pedro was a Multistore Asset Protection Manager for the Home Depot covering 9 stores. He worked for Home Depot for over 23 years. Over this time, he developed a large second family, his work family, with some employees becoming his closest friends.
Pedro was driven when it came to providing for and supporting his family. He stood by Kendra when she decided to go back to school to get her degree to teach. Her graduation was another extremely proud moment for Pedro.
His family continued to grow when Pedro and Kendra were blessed with grandchildren. Abby had two sons, Lucas and Brady. He loved being a Papa and they adored their Papa.
Pedro held a fierce love for his beloved homeland of Portugal and was a giant lifetime supporter of soccer, specifically Portugal's national soccer team, Sporting Club Portugal. He incorporated this passion into his life by being involved with Kingston Youth Soccer. He proudly coached his children, and many of Kingston's youth for the organization. He couldn't have been happier when his best friend and son, Nick, was recruited by Thomas Collage in Maine to play soccer. He had successfully passed his love to his son.
Pedro was predeceased by his father and mother, Pedro Garcia and Palmira Garcia. He is survived by his sister and her husband, Isabel (Isa) and Armindo Dematos of Lakeland, Florida and two nephews. His nephew Hugo Dematos and his children, Sean and Logan and nephew Nuno Dematos and his wife, Lauralis and their two children, Jacob and Janelis.
Pedro is survived by family in Portugal; his cherished aunt and uncle Adilia and Jose Garcia and cousin, Fernando Garcia, who he never forgot.
Pedro leaves behind his wife, Kendra, his daughter Abigail Grace and Sean Reilly and their sons, Lucas and Brady, and his son Nicholas David, all of Kingston.
Pedro's entire focus was his family. The kids will remember him singing karaoke. They will remember the yearly Disney vacations. They will remember that they were the most important thing in his life. He lived life to the fullest. He loved life. He loved.
A celebration of his life will be held in his honor at the Knights of Columbus Hall, 91 South Street, Kingston, on Sunday, January 9, from 12-5.
In lieu of flowers, Kendra asks that you donate to the Jimmy Fund, as he was a lifelong supporter of the organization.