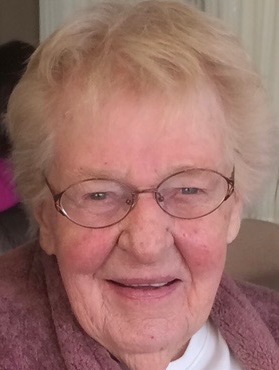 Jean M. Scholpp
Jean M. (Cullivan) Jasmin Scholpp of Kingston, MA passed away peacefully on December 24, 2021 at Wingate of Silver Lake at the age of 92. Born and raised in Weymouth, MA, Jean was the youngest of John and Irene Cullivan's seven children. She attended Weymouth High School and often joked that the only reason she graduated was because "they had enough of the Cullivans". She worked for John Hancock in Boston before moving to Kingston with her first husband, the late Roland "Rolly'' Jasmin.
She was the loving mother of the late Thomas Jasmin, Patricia (Jasmin) Andrews and her husband the late Michael Andrews, and James Jasmin. Jean and Rolly were foster parents to many children, the last of which was very dear to Jean's heart, Jeffrey Morris.
Jean was the beloved wife of the late Vincent "Vinny" Scholpp. Jean worked for Stop and Shop for many years referring to herself as the "Bologna cutter". She and Vinny enjoyed spending winters in Florida and weekend trips away with friends. One of her fondest memories was her trip to Ireland.
She is predeceased by her parents and her six siblings: Daniel Cullivan, Leo Cullivan, Rita Bzdula Shores, Lawrence Cullivan, Noreen Morgan, and Robert Cullivan. Jean is survived by seven grandchildren: James Jasmin Jr., Michael Jasmin, Megan Andrews Battaglino and her husband John, Holly Jasmin McCusker, Emily Jasmin Rudd, and Kaelin 'Buttercup' Andrews; and the late Shannon Andrews, seven great grandchildren, her many nieces and nephews, and dear friends Stephen Duggan, who took on the role as another son after Tommy's passing, and his wife Suzan.
Despite many hardships throughout the years Jean never complained. She will be remembered for her positive demeanor, entertaining stories, and as one of the Boston Red Sox biggest fans.
Viewing hours are scheduled from 4-8 p.m. on Monday, January 3, 2022 at the Shepherd Funeral home in Kingston, MA, followed by a funeral mass at 10 a.m. on Tuesday, January 4, 2022 at St. Joseph Parish in Kingston, MA. In lieu of flowers, please donate to The Red Sox Foundation - https://www.redsoxfoundation.org/donate/.
At this time masks will be required in the church for all services.
Jean's family would like to express a special gratitude to the dedicated healthcare staff at Wingate of Silver Lake and Cranberry Area Hospice for the loving care and support provided to Jean and her family, especially during these difficult times.