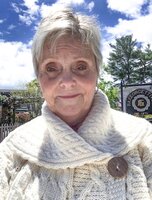 Bonita A. ""Bonnie"" Wile
Bonita A. Wile, (Bonnie) 73, of Bourne, MA, formerly of Plympton, MA has passed away peacefully after a brief but courageous battle with cancer, with her loved ones by her side, on Tuesday, December 28, 2021
Bonnie is predeceased by her late husband of 49 years, Laurence E. Wile and is survived by their four children; Deanne L. Gummerus and her Husband John of Plant City, FL., Kellie A. Craig and her Husband Stephen of Middleboro, Laurence G. Wile and his wife Jamie of Plymouth, and Jerilyn Ballard and her Husband Glen of Hanson.
Bonnie was born to her late parents, George R. Nelson and Alyce L. Nelson (Kelley). She was the youngest of their four children; Roger Nelson, Alan Nelson, and George Nelson. She has several Sister-In-Laws, nieces and nephews.
Bonnie is also survived by her live-in companion, Joseph Antonellis of Bourne, MA and his loving family, Laurie & Todd McAnaugh and Marci & Ed Redmond both of Bourne, MA
Bonnie was raised in East Bridgewater and a graduate of the East Bridgewater High School class of 1966; in her earlier years she enjoyed crafts, baking, and of course; shopping with her best friend Marie Snow of Georgia, formally Plympton, MA.
Bonnie was blessed to find love again after the loss of her husband, Laurence. Bonnie loved Joe and his family dearly. She enjoyed spending time with Joe, taking long walks along the Cape Cod Canal and traveling with Joe and his family. She traveled to Hawaii, Florida, and Atlantic City to name a few.

Bonnie also enjoyed spending time with her family and friends.
She has 12 Grandchildren who lovingly called her "Mammie"; Casey L. (Fuller) Ferguson, Lyndsey A. Fuller, W. Thomas H. Fuller Jr., Christopher L. Wile-Craig, Stephen Bradford Craig, Jessica L. Craig, Ashley M. (Craig) Levesque (Noah L. Wile, William L. Wile, Allyson L. (Corbeels) Rollins, Zackary W. Ballard, and Ryan C. Ballard. She also has 8 great grandchildren ranging in ages from 11 years to 8 weeks.


Celebration of Life; will be held on Sunday, January 2, 2022 from 12 – 5pm at the Plymouth Yacht Club, 34 Union Street, Plymouth, MA 02360. The Town of Plymouth Mask Mandates will be in place. Interment will be private. In lieu of flowers please send donations in her memory to Cranberry Hospice, 36 Cordage Park Cir, Plymouth, MA 02360 or visit their website at: https://www.bidplymouth.org/cranberryhospice