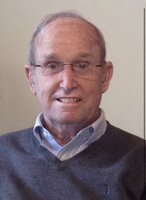 Arthur Chester "Bill" Dunmore
"Arthur Chester "Bill" Dunmore died December 16th, 2021, surrounded by his family in Duxbury, MA. He had just celebrated his 95th birthday.
He leaves behind his three children, Nancy Dunmore Reed of Duxbury, her husband Donald, Douglas Dunmore of Northport, FL, his wife Karol, the late Kenneth Dunmore of Barrington, Ill., and his wife Margo. As Grampa he was well loved by his seven grandchildren Jesse, Jennifer, Emily, Andrew, Crystal, Brooke, and Caroline, and eight great-grandchildren, Abigail, Benjamin, Tobias, Elias, Taylor, Vail, Otis & Kenton. He was happily married for 61 years to the love of his life, the late Mary Virginia "Jinny" Cattell Dunmore. The two settled in Duxbury in 1950 because of their love of the outdoors and ocean, having experienced summering there growing up.
He was born in Newton, MA, attended school at Newton, Tabor Academy, and Williams College. In his younger years was an avid outdoorsman and sailor with a penchant for traveling. He worked in marine supplies and sailcloth throughout his career, serving as a Vice President at Harrington King. A lifetime member of Duxbury Yacht Club with a passion for sailing, tennis, and golf. He was an avid community advocate, card player, square dancer, and gardener. He enjoyed spending time with his family and keeping up with his children and grandchildren's activities.
After Jinny's passing, he moved to the Village at Duxbury, where many of his friends lived. He enjoyed participating in the various activities offered there, especially bridge (5 days a week), movies, and lectures. He was a kind and gentle man, well-respected, welcoming, and friendly.
To offer condolences, please visit www.shepherdfuneralhome.com
Shepherd Funeral Home, Kingston. "