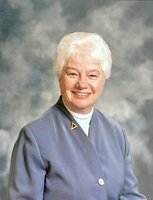 Sr. Myra Rodgers
Sister Myra Rodgers, 84, of Kingston, passed away in the waning hours of December 25th with The Sisters at Providence House by her side. Barbara Ann Rodgers was the first of two daughters born to the late Jack C. and Florence (Klemmer) Rodgers in Pittsburgh, PA. She is survived by her sister, M. Janet and her husband John Franz and their daughter Heather.
Having entered into her congregation in 1953 from her home parish of St. Martin's, West End, Barbara's time in initial formation began a lifetime of changes, including her choice of Myra as her religious name. An educator early on, she taught in a number of parish schools in the Pittsburgh area with the longest being a 13 year stay at St. Basil's.
In 1996 she received a Master's of Music in concert organ from Duquesne University. She participated in the A.R.C. program in Rome, Italy which presented the scriptural and theological foundations of Consecrated Life in Apostolic Religious Communities. She later did graduate work in Toronto, Canada receiving an M.A. in Theology. In the early 80's Myra served as part of the campus ministry team at La Roche College in Pittsburgh and later as the director of the Provincial House in Allison Park. In 1995 Sister Myra was elected as General Superior, residing in Rome for two years. In that time of restructuring, she oversaw the move of the Generalate from Rome to Mother of Providence Convent in Wakefield, RI. At the end of her term she moved to Kingston where she served as President of Sacred Heart School System.
Services will be private. Donations may be made in Sr. Rodger's memory to the Sisters of the Divine Providence, 363 Bishop's Highway, Kingston, MA 02364.