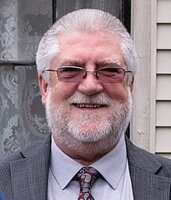 Christopher Abram "Chris " Gavin
Christopher (Chris) Abram Gavin, 73, of Plymouth, MA, passed away on December 12, 2021.
Chris was born in Corner Brook, Newfoundland, Canada to Thomas and Lucy Gavin on December 1, 1948.
After serving in the United States Air Force, Chris spent his life working in Information Technology as a Network Technician. He enjoyed reading, laying it on the line at Twin River and working on his hot rod. He was also a passionate fan of the New England Patriots. He loved spending time with his family. He always carried a kind and fun loving attitude that left a strong impression on everyone he met. Chris will be greatly missed.
Chris is survived by his wife of 39 years, Patricia, son Jason and wife Melissa, daughter Kristin, son Sean, grandchildren Marissa and partner Mark, Gianna and husband Matt, Julia, great grandchildren, Aaliyah, Declan and Jazmyn, brother Hughie and wife Sandy, sister Eva, sister Donna and husband Chris, brother- in-law Bill, brother-in-law Jimmy, sister-in-law Marilyn, brother-in-law David, extended family Ralph and his children Sydney and Cullen, extended family Jonathan and wife Kelli and their children Killian, Lochlan and Aven. He is preceded in death by his father Thomas, sister Susan, brother-in-law Steve, brother-in-law Billy, brother-in-law Buddy and another brother-in-law Billy. Chris also leaves behind many nieces, nephews and close friends.
A visitation for Chris is planned for Monday, December 20, 2021 from 4 pm to 8 pm. The visitation will be at Shepherd Funeral Home on 216 Main Street, Kingston, MA. The funeral service is scheduled for Tuesday, December 21, 2021 at 11 am also at Shepherd Funeral Home. All are invited to attend.