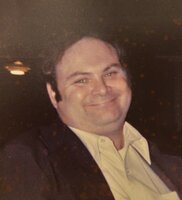 John Paul Hearson
John Paul Hearson, age 71 of Duxbury, passed to his well-deserved reward in heaven on Nov. 20, 2021 at the West Roxbury V.A. Hospital. He was the beloved husband of 46 years to Ruth Ann (O'Donnell) Hearson. Born in Dorchester, John was the only child of the late John P. Hearson and Mary (Kelleher) Hearson; he was raised and educated in Weymouth, and later attended Massasoit Community College. John was a terrific father to Michael John Hearson of Carbondale, PA and Stephen Paul Hearson of Shrewsbury, MA. Also survived by Michael's wife, Michelle, and Stephen's wife, Tamika and his cherished grandchildren, Asher, Teaghan and Asa Hearson.
John was an avid Amateur Radio Operator, attaining Advanced Expert Class. As a 100% disabled Army Veteran, who served honorably as a Medic for two tours in Vietnam, John was confined to a wheelchair, due to the loss of his right leg and use of his left leg. But that never stopped him from doing what he wanted to do. John was the recipient of the Purple Heart and Bronze Star. John owned a horse when he got out of the VA Hospital and was able to ride using a car seatbelt to hold him in the saddle. In the late 1990s John traveled around the country competing in wheelchair sports. John bought a 3-wheel motorcycle and joined Army friends on rides as far away as CA to honor our POWs at the Vietnam Veterans Memorial in Washington, DC. He encouraged his sons in Boy Scouts, Baseball and Football.
Every summer John would drive the family on vacations all over the US and Hawaii in his hand-controlled van to broaden their horizons. He was a life member of DAV, the Marshfield Rod & Gun Club, and Braintree Rifle & Pistol Club where he was a dedicated Range Officer for years. In 2018, John started to have more medical problems, with frequent hospital stays. A courageous three-year battle with liver, lung and stomach cancer finally took its toll and took John down. John will be known as one tough guy who loved his family and friends to the end and will be sorely missed.
John is also survived by his sisters-in-law, brothers-in-law, nieces, nephews, grand nieces, grandnephews, and cousins.
No flowers, as the cemetery allows only 1 bouquet. Gifts in John's memory may be made for the benefit of his grandchildren's education in care of: Stephen P. Hearson, 6 Ivy Path, Shrewsbury, MA 01545.
On Saturday, December 4, 2021, a wake will be held at 10:00 a.m. at Holy Family Church, 601 Tremont St. Duxbury, MA, followed by a Mass of Christian Burial at 11:00. Interment immediately following the Mass will be at Plymouth County Memorial Park, 173 So. Meadow Rd. Plymouth, MA with full military honors.